Quality assurance
Since its beginnings, Eugin has sought to stand out as an organisation that uses internationally accredited management tools. Our organisation is also a benchmark in the sector as the first assisted reproduction clinic to set up an Integrated Management System for quality, the environment and health and safety at work.
We are management certified thus ensuring that we provide a service focused on excellence and continuous improvement. These are the standards we are certified in:
The patient is at the core of all our actions and our primary aim is to meet their demands speedily, efficiently and responsibly. To achieve this, we have a highly qualified team, cutting-edge technology and standardised processes that are constantly reviewed in order to be able to implement improvements, in line with our patients' expectations, and based on scientific evidence, as well as the very latest technological advances and current legislation.
It is this very philosophy and the management tools we use to put it into practice that sets us apart as an organisation with a clear focus on achieving excellence, the full satisfaction of our patients and employees, and a commitment to sustainable development.
Consult our Policies on quality, occupational health and safety, the environment and information security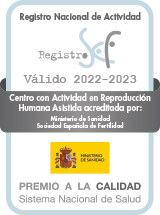 Eugin collaborates on a yearly basis with the SEF (Spanish Fertility Society) Registry of the Spanish Ministry of Health, which analyses our business and results, based on quality standards and with regard to current legislation and international approval.