Quality assurance
Since its beginnings EUGIN Clinic has wanted to be part of organizations that are recognized as managers of effective procedures and protocols, as well as efficient resources and satisfied patients. Our organization is also a benchmark in the sector as it is the first Assisted Reproduction Clinic to implement an Integrated Management System for quality, the environment and occupational hazards.
2005:
Quality Management System certification in accordance with ISO 9001: 2008.
2008:
Implementation of the Environmental Management System in accordance with ISO 14001: 2004.
Implementation of the Occupational Health and Safety Assessment Series according to the standard OHSAS 18001:2007.
2010:
Quality certificate renewal in accordance with the new ISO 9001: 2008 standard.
2012:
Awarded the ISO/IEC 27001:2005 seal, which accredits us as an organization that has implemented an Information Security and Data Protection Management System.
2015:
Adaptation to the new ISO/IEC 27001:2013 standard for Information Security and Data Protection.
2018:
Renewal of the Quality and Environment certificates to the new ISO 9001/2015 and ISO 14001/2015 standards respectively.
Among all the advantages of having an integrated management system, what should be highlighted is the implementation within the company of the philosophy of the continuous improvement of our services, with the most demanding policies and programmes, which not only meet the needs of our patients but also places us at the highest level of competitiveness.
Today, the patient stands at the heart of our work, so our overriding aim is to have the means to meet their demands with responsiveness, efficiency and responsibility, with clear objectives and goals, a highly qualified team that is constantly trained and kept up-to-date, cutting-edge technology and standardized processes that are frequently reviewed in order to establish improvements and enhance their performance based on patient expectations, scientific and technological possibilities and current legislation.
It is precisely that philosophy and the management tools through which it is put into practice, that sets us apart as an organization with a clear focus on quality and the complete satisfaction of our patients, workers and society at large as well as a commitment to sustainable development.
Consult our Policies on quality, occupational health and safety, the environment and information security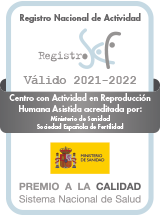 Eugin collaborates on a yearly basis with the SEF (Spanish Fertility Society) Registry of the Spanish Ministry of Health, which analyses our business and results, based on quality standards and with regard to current legislation and international approval.