Take the virtual 360°tour of Eugin Barcelona3️⃣6️⃣0️⃣ ?
It was only recently that we celebrated the first anniversary of our new headquarters in Barcelona, and it is here in this clinic that thousands of dreams have come true. Many are the women who have shared the Eugin experience in their quest to have a baby and it thrills us to know that many more will be coming here to pursue their dream of becoming mothers.
We know that this clinic is special. And not just because with its 6,000 square metres it is the largest fertility and assisted reproduction centre in Europe; nor because it is equipped with the most cutting-edge technological and medical resources… But because Eugin's team is exceptional and takes care of every single detail so that you feel completely at home when you visit us.
So before you visit us (you can make an appointment and find out about all the preventive measures) we would like to invite you to get to know each and every area of the centre in the virtual tour we have prepared. You will be able to move freely around the entire premises using any device and consult additional details by clicking on the information️ icon (ℹ️) in each area: the reception areas, the consultation rooms, the laboratory and even the operating and transfer rooms, as well as the nests, which are a unique concept in fertility and assisted reproduction clinics in Spain.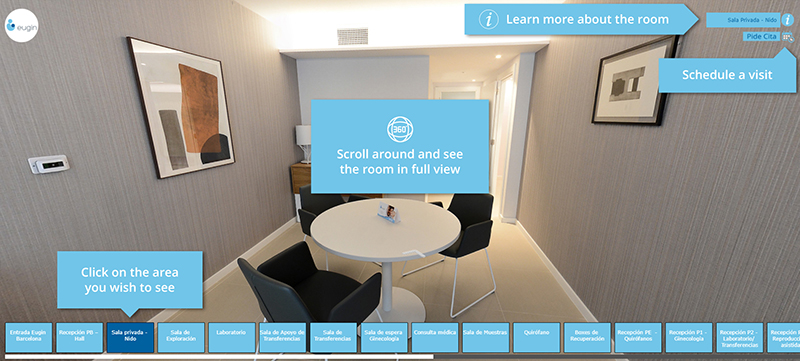 Eugin Barcelona is the only clinic of its kind to have developed so-called "nest" rooms, which allow patients (and those accompanying them) to have a private room that becomes the centrepiece of their stay at Eugin. In other words, they stay there for the duration of their stay, and it is the specialists and other professionals who take their consulting rooms to them and who adapt the place to their needs.
Interesting, isn't it? Each area of the clinic has its own story and, in addition to the virtual tour, you can find a lot of information on this website.  Although you may already know us in person, we are sure you will still have somewhere to discover… Would you like to come in?